05 January 2014 From: Debbie Barnes – Subject: How to cope with it all
Firstly I want to say a big thank you for your website – I have enjoyed reading your stories and gleaming information, advice and tips as the web Is so limited on info on this disease ( I had never heard of it until Friday). My Max is 11 – he is not really a pet but a big part of my hubby and my family – he is our baby and everything we do is done with putting him first – he has been on every holiday with us – Spain -France etc – he has always been with one of us as we work different hours the beauty being is that he is never alone – he is so loving and it has been hard seeing him slow down the last few years – he had a slipped disc and few years ago, although now better, has never fully recovered but he is a little tough soldier and we love him the more for it. About the last 6 months I have noticed his breathing a bit more laboured and wrongly I put it down to his back as he can struggle when having a 'bad day' but suddenly noticed the last 2 weeks a more rasping noise, he tightens up his whole body and can't move – this happens after small walks and even when I pick him up – I realised something more was going on – so I took him to the vets who after an examination suddenly said ' westie lung disease'; I had no idea what he was on about – I have countless books on westies – not one of them mentions that, and for once I feel like a bad dog owner – why don't I know? I should know – I thought I knew it all on westies – how wrong was I and so there I was mouth dropping on the floor when I asked about the prognosis – he replied 'we'll it's not as if he is 5!' What!!! 'No' I said I've loved him for 11 years not 5! Some vets can be tactless – I came out of there armed with some anti-inflammatory drug – loxicom and an X-ray booked in for Wednesday just to confirm what he seems to think is true.
Since then I've gone on the web and researched it and it seems to all tie in – I'm really frightened the future looks bleak – the thought of losing him is awful and so uncertain – any tips would be great – I know I will get him a fan as I have noticed that it can bring on an attack when he gets hot – I've turned the heating down in the house – I want to be armed with all the info prior to my visit Wednesday – I see you recommend the inhaler so I shall ask for that – is there any thing more you can let me no to ask for if the results are as we suspect ?
Everything I have seen about you both so remind me of my hubby and me and our lives with Max – I can not imagine what you went through so appreciate the fact of your web page I did find it sad yet wonderful and happy and sad all rolled into one – your boys were lucky to have you. Thank you, a very worried Westie owner Debbie, Fraser and our Max
On 8 January 2014 Debbie replied back….
Max
It has been confirmed today that our beloved Max does have WLD, but on the positive side he has also got a chest infection which can be treated with anti-biotics – I say positive because I'm thinking that once we clear up the chest infection his breathing should improve. He's a pretty good vet and seemed quite knowledgeable and said that steroids should only be given in the later stages and not now, also recommended Serrapeptase (Enzymes) and said that he recommended them before and another dog has done well on them, he told me to buy them on the internet – I think this shows a good vet, thinking in our Max's interest and not about making money, as the practice doesn't sell them- we are seeing him next week to discuss options and treatments once his chest infection has cleared up – so will be interested to see what else he will suggest – at least we know what we are dealing with now – and will look at all the options to make his life as full, happy and comfortable as possible.
 I contacted Ann as you recommended and she gave me some really useful information, and following her email we have ordered the Enzymes. Thank you again
25 January 2014 From: Stuart Jagger – Subject: Twopack
First of all thank you very much for providing a very informative website for people like me who have got / had experience of their westie having Wld.
Twopack was a 13 year old girl who was diagnosed with wld back last summer and was put straight onto steroids and vitofylin which on the whole did a good job of keeping her near to her normal self so everything seemed fine. Last weekend she went down hill very quickly being generally low energy, panting / gasping for air and extending her neck which prompted me to do some of my own real life research of other owners experience of the disease, this is when I came across your stories of Austin & Harry then going on to read the many visitors comments which helped us realise we were in the final stages of Twopacks' life.
On Monday with heavy hearts we made the appointment at the vets to put her out of suffering, Elvis our other westie said his goodbyes sniffing her bum and licking her face before we left for the short journey which she laid head out of the car window, one last time. On arrival at the vets she just laid motionless just looking around. We were then ushered in to a consult room to await the vet in private, unfortunately Twopack couldn't wait any longer and slipped away in our arms quite peacefully, no fuss. There ended the life of a truly loved friend. Once again thank you and all the other owners for sharing your experience and helping us with ours.
28 January 2014 From: Maureen Duffin – Subject: Ellie
Hi Neil and Jane, firstly a big thank you for setting up this website for Austin and Harry. I'd never heard about WLD before until Ellie was diagnosed with it last October. I'm so glad I found your site as it has lots of information that I didn't get from other sites. I knew from your site what to expect as the disease progresses, how to make her comfortable and how to lift her so it didn't bring on a coughing fit. Sadly on January 6th this year we had to have her put to sleep. The vet said her lungs were so bad she was surprised there was any air getting in there at all. She passed away in my arms; she was 16 years and 5 months. We miss her so much and the house and our lives are so empty without her. Thank you again for all your great information.
17 February 2014 From: Matt Huentelman – Subject: Westie Lung Disease – Genetic Study
Hi – I was so touched by your story of Austin and Harry.
I am a researcher at a non-profit academic research institute in the U.S. I wanted to let you – and your other visitors – know that my laboratory has an open research study to examine the genetics of Westie Lung Disease. We are currently looking for DNA samples from dogs with the disease. All that we need is a quick collection of saliva from your dog using a special kit that we will send you by mail. It is fast, doesn't harm your dog, and can be done in the security of your own home. If you, or others, would like to enroll their dogs in our study it can all be done via our site at: https://canine.tgen.org/k9/Kit-Request/28/West-Highland-White-Terrier-with-Interstitial-Pulmonary-Fibrosis-IPF.html
Thanks so much for sharing your story and helping raise awareness about this disease in the Westie.
07 March 2014 From: Tony Oliver – Subject: Benji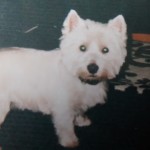 On the 24 February Benji my west highland terrier passed away in my Wife's arms. He was diagnosed with WLD seven weeks ago. He collapsed in the garden.  
He was on medication but me and my wife think the medication did not help him his last two days as he was struggling with his breathing. He was 11 years old – big character for a little dog.

Little Benji will never be forgotten -he was a big part of our lives and he will be missed greatly but time is a healer.
11 March 2014 From : Neil Digby – Subject: Holly
Hi, Having read quite a few of the accounts of everyone's beloved Westies battle with WLD, I'd like to share with you the story of our family Westie, Holly. Mum and dad brought Holly into their lives in the summer of 1998 when myself and my two brothers all left home to spread our wings within a three month period of each other and no sooner had we flown the nest then Holly filled the void.
Holly was 7 weeks old and already at that age she was a lovely little character, that character would blossom throughout her life that made very much loved by Mum and dad and myself when I came back home to visit for a few days at a time. Holly was independent when she wanted to be and also very affectionate and very loving too. She loved cuddles, loved my mum and dad and always looked forward to when myself and my brothers came to visit, she never forgot us.
My mum died very suddenly in at the start of 2005, her passing left a huge void in all of our lives and Holly's too. She missed my mum terribly, she had to be treated by the Vet for stress as her skin became inflamed and even to her last day nobody was allowed to sit in mum's chair, Holly would stare at you very seriously if you sat there and her mood would lighten once who ever would be sitting there had moved. Dad still worked up until his retirement and Holly used to go to work him and join on his patrols as he was a security officer, there was nobody to look after Holly when dad was on nightshift so she went to work with him. She was very sleepy indeed after a nightshift.
Holly went through the mill a bit in her lifetime. She had a toe removed, her womb removed due to sever internal bleeding and was a bit hard of hearing her last two to three years but through it all she was jolly, loving and loved the company of her family. Just approaching Christmas 2011 and during the holiday period Holly suddenly became unwell although she had not really wanted to go for walks for sometime and preferred instead to potter around the garden. Dad just put that down to old age and Holly wanting to take life a bit easier. On the Christmas Eve everyone had a sleepless night as Holly was irritable, was coughing, vomiting and then she appeared to stabilise for a couple of days. Dad got to the vet as soon as he was able to.
The vet diagnosed Holly and confirmed that she had WLD and put her survival time as being between 6 weeks and 6 months. For 6 weeks Holly perked up, wanted to go for an odd walk here and there and was like her old self until on 1st February in the evening, my dad called me I tears and said Holly was in a very confused state and was very irritable, he knew he was about to lose her.. The next day he called the vet but Holly collapsed into my dad's arms just before the vet arrived and passed away peacefully at thirteen and a half years old. Dad was heartbroken, he adored Holly as we all did but Holly was my late mother's dog too and she meant so much to us all.
Dad now has another dog now, a very lively now 18months old Labrador called Laddie who my dad bought at 8 weeks old. Laddie is very different than Holly was in every way and dad loves him but the love he had for Holly was greater and even now, two years later he talks about her and how much he misses here, Holly's memory will never leave any of us. Her ashes are in an earn at the end of my dad's garden in Holly's favourite spot.
11 March 2014 From: lisa – Subject: my 4 year old westie passed away last night with wld 
Hi I just want to let you all know that my 4 year old westie ALFIE had to be put to sleep last night. He's been back and forth to the vets with his breathing since october only to be told last week that it was wld; we thought we could of contolled it with steroids for years, but the past couple of days he started struggling so bad to breathe and started with a horrible cough, he just couldn't catch his breath. We are all absolutely devastated, we miss him so much the house isn't the same without him. I wish there was something more I could have done for him but I tried my utmost best for him, we're heartbroken I just can't believe there isn't a better outcome with wld.
He was a proper little character, I miss him so much, I love westies but didn't think I would ever consider getting another with what happened to alfie. I can't remember tbh were I got him from but there was other breeds of dogs outside in the garden with there pups, alfie had cuts on his head and a sore eye when we got him I do know it was in Wythenshawe Manchester but that's all I remember.
sleep tight my boy we love u xxx
19 April 2014  From: Sheryl – Subject: Our baby girl Kaysie
First I want to thank you all for this website and for your stories. I'm in tears reading about all of your babies but find it comforting that we are not alone and appreciate all of your tips and advice.
Kaysie just turned 14 last week and was diagnosed with WLD almost 1 1/2 years ago. She had been coughing and had crackling in her lungs probably since the age of 9. The vet kept telling me she had a collapsing trachea and allergies. When she developed this croupy cough one night in Dec 2013 I rushed her to the vet the next morning and they diagnosed her with kennel cough!! After two days of antibiotics and getting worse we took her to the hospital and found out she was in heart failure and had an enlarged heart. They gave her LASIX which was stopped by the pulmonologist the next day after he made the diagnosis of WLD. He started her on Viagra and theophylline.
When she had bad episodes every few months we would do tapers of prednisone. Her heart shrunk back to near normal and we have been doing well. I have noticed that she has been having a tougher time these past few weeks and has slowed down dramatically. We started her on 5 mg of pred a day regularly now. Her walks are slower and shorter and she no longer sleeps on her bed in front of the gas fireplace where she loved so much for the heat. She sleeps on the hard floor in front of the doors to get the cool air. She actually had an accident in my bed two nights ago for the first time. My heart is breaking because I can see the disease progressing and feel helpless. We thought she was gaining weight from the pred but I think the muscles on her sides are building up from heavy breathing. She's eating canned salmon and salmon steak and eggs. She's become a very picky eater and has good days and bad with her stomach which sounds like many of you have experienced. Thank you for listening and for your support.
FYI I recently swabbed her cheeks and sent her DNA into a lab that is doing genetic research on WLD. If you go onto www.petsmart.com you can read about the project. Thanks again. So grateful that we have all had these special little fur babies in our lives.
On 9 May 2014 we had an update from Sheryl about Kaysie….
I wanted to let you know some great news that you may want to share on your website, in case it can be of help to others.
When I had written to you last month, Kaysie was in awful shape and couldn't walk past the front lawn. I thought that the time had finally come.  She had stopped eating her food and since she had developed a chicken allergy, I had just started feeding her salmon steaks that I baked for her and fed her (about 3-5 oz per day).
I had read about supplements and that fish oil is great for inflammation, and I am a true believer now!  She has made a dramatic turn for the better over the past three weeks!  We walk our normal walks again and she is happy, even her breathing is not as difficult as it was before.  I know that this is not a cure, and that she is still pretty far along with the progression of WLD at 14 years old, but she is so much more comfortable and her quality of life has definitely improved.  Her daily diet consists of salmon from breakfast and dinner, and a piece of French toast I make her for lunch (of course she is still taking viagara twice a day, 5 mgs prednisone daily and 50 mgs theophylline daily).
I wanted to let you know, so that maybe others can try it and see if it helps their little ones as well.
Sheryl posted us some sad news on 29 August 2014….
It is with a heavy heart that I write this, but I wanted to let you know that Kaysie passed away a couple of hours ago of cardiac arrest. We brought her to the hospital and she died within a couple of minutes of being there. I am relieved that she went peacefully and without pain. The last few days have been tough with excessive panting and slowing down but her tongue was still pink so we really didn't see this coming.
The doctor said they've never seen a dog live for almost two years post congestive heart failure and pulmonary hypertension secondary to WLD. I still believe it was putting her on a fresh salmon steak diet, in addition to Viagra and other meds that kept her alive and doing well until the very end.
Sending you my best wishes and thank you again for your support and your wonderful site.
14 May 2014 From : Chantal – Subject : Ginger
This is the story of the Jack Russell, Ginger , she will be 13 years old next month. She started coughing about a year and a half ago , January 2012 , just occasionally sometimes once a day, sometimes only once a week. Because I never trust coughing, I went to the vet immediately. They checked her and said they heard lots of crackling noises in the lungs; they took a picture but it was hard to make a diagnosis, so I was told she could be suffering from chronic cough disease and I was advised to give her a puff once a day and put her on a diet because she was a bit overweight. She stayed the same for a few months but then she started coughing a little more, like every day and sometimes twice a day. I started to worry even more and took her for a second opinion to a more advanced clinic. There they examined her heart function and took another picture of the lungs, which looked similar to the first picture, heart was in good condition, a little enlarged on the right side but nothing to worry about. I continued with the puffs twice a day but this did not seem to work anymore. After looking and reading on the internet, at that time I hadn't found your page, I started to suspect she could have lung fybrosis and was not satisfied with the results of the former vets so I went again to yet another clinic ! There they first gave her antibiotics for 10 days without result, after that they put her on Prednisone, 5mg x 2 a day for 5 days and after 5mg a day. First 2 days spectacular results, no more coughing at all .. but then it started all over again. I gave it some time but realised after 2 months that these pills could do more harm than good, symptoms were not really much better and she was so hungry and had to go to the toilet all the time. I did not feel like putting her under risk of Cushing disease or another bad side effects! So we went on with our search and found out that the UZ hospital in Utrecht, Holland  has a professor specialized in lung diseases. He told me there is nothing I can do, just have to wait until she has no more quality of life and then make a hard decision. He could not give me a 100 % diagnosis without putting her under sedation to do a lung biopsy; I refused that because I do not want to take such a risk of her not waking up! She is still a happy and active dog, we do a daily walk of 40 minutes, so this was not an option. For a few weeks we have been busy with an acupuncture session, a try out because no guarantees this will help her.
Since I found your site and all the stories of the other owners I am almost sure she has the disease … I did find out thanks to you that there is a clinic in Luik, Belgium who examines Westies to try and help them and they need sick dogs to help them understand more about this awful disease. I have sent an e mail to this doctor that I am desperate and if she can please see Ginger. I got a very friendly phone call that she is willing to see Ginger next friday 23th of May! She will do different tests, all harmless and without sedation! I will keep you posted about her condition; I have learnt that all information can be useful how small or stupid it seems 🙂
Thanks to all of you out there who take so much care about their beloved furry family members!
Best regards Chantal (Belgium)
On 17 June 2014 we received an update from Chantal about Ginger….
We went to the clinic in Luik on 23 May, Ginger got diagnosed with Ideopathic long fibroses without a doubt.
They have done tests for more than one hour, heart and long tests, 6 minutes walk test, testing the oxygen in the blood, all the tests that could be done without sedation. All these tests were free of charge because unfortunately she fits their program. In my heart I already knew the outcome of the tests but somewhere deep inside you still hope she has a harmless allergy …
The good news was that the professor who did the tests told me that she has been working for 2 years in this
program and not one Westie died in that time …. I have signed a paper that she will come back every 6 months for tests and that if something happens to her I am willing to let them investigate her lungs. I agreed because it would be great if somebody can find a cure in the future for this horrible disease.
She is now on Sildenafil 6.3 mg 2 x a day (viagra) to help her heart pump the oxygen in the blood as her heart is already suffering a bit. We just got back from our holiday in Spain and she came along. I had a huge amount of stress taking her but I did not want to leave her at home either … this holiday was booked 6 months ago! I had been thinking about cancelling until the last minute but the vets told me she would be ok as long as I did not let her get overheated.
The whole holiday was about keeping her comfortable and she was 🙂 . A walk in the early morning and then resting and playing in our cool rental villa kept her safe! Also the plane was no problem, she slept in going and again in coming home! She celebrated her 13th birthday in style in Spain with the whole family! She has her worst moments in the morning when waking up, she sleeps very good but as soon as she gets out of my bed it starts, coughing and you can hear her breathing is noisy. After 5 to 10 minutes it gets better and then she gets her pill in a treat and she forgets about coughing 🙂
During the day she coughs now and then, when she drinks, we she gets excited and starts rolling or scratching, but when we go for a walk of 45 minutes we do not hear her coughing, she can still do a good walk ! Sometimes you think she is doing really well and then other moments you get hit with the fact she is very sick …
I try to worry less and enjoy her presence because every sad moment is a waisted moment but it is hard to cope with this illness as all of you know !
29 May 2014 From: Karen Edmunds – Subject: Breagha
I found your site yesterday. My beautiful Westie – Breagha – was diagnosed with fibrosis on Tuesday when taken ill with choking / breathing difficulties. At 13 and with the usual Westie skin issues she'd been on steroids for two years. But these were stopped to try a new drug for skin issues. That was six weeks ago. This morning I had to make the very sad decision to put my beautiful girl to sleep. I couldn't bear to see her struggling for every breath and clearly uncomfortable and unable to sleep.
Seeing the info on your site made me realise she was exhibiting some of the signs of fibrosis for a while – deep sleep that it was hard to wake her from and lots of sniffing and slow walking. She was a wonderful dog and got me through the past five months after losing my husband just before Christmas. I will talk to my vet about raising more awareness of the condition. Thank you for your website. It's really helped me understand what was happening to my girl and also to realise what was the best course of action for her.
21 June 2014  From: Darren Howe – Subject: Barney "Be Good"
I write this with a very heavy heart, my westie Barney succumbed to this dreadful WLD on Wednesday Morning, he was 11 years 5 months. He first developed a cough back in September last year, a couple of times I noticed he would pass out but quickly recover, at first I thought it was possibly Kennel Cough. As I did not seem to be clearing we took him to the vets and they diagnosed Bronchitis, prescribing Steroids. Even though he was breathing more rapidly and prone to coughing fits when over doing it, he managed to continue doing all he wanted up until this Monday when he took a dramatic change. I took him for he's usual morning walk, however once arriving in the Park he was extremely slow, we managed to get about 400 yds but took about 30 mins and then he layed down, I could see he was exhausted and tiered by he's eyes. I managed to coax him back to some benches where we sat enjoying our time together and I took some lovely pictures on my phone..
Once home as the day drew on he seem to be gasping more than ever before, in his face he seemed very washed out. The next morning he had a bout of the runs and brought up his evening meal. He was very agitated almost in a panic, he was so tired he was trying to sleep sitting up. We managed to calm him down, then he did a very odd thing and went up the back of the garden and started to dig for a while then he just laid down. We stayed up all through the night with him to try and keep him as calm as possible, keeping a fan blowing fresh air at him. We took him to the vets that morning (Weds), he was very weak, but he had brightened up in his face slightly. The vet explained that he was not circulating oxygen throughout the body due to the lungs no longer operating as they should, they asked us to leave him there while they tried pumping steroids straight into him to try and get the circulation going again, but this would be a long shot at best. Alas we were only home a couple of hours when the call came to say it had not worked!
.
The drive back was something of a blur, as I knew deep down I was going to be asked to make a decision I was not ready to face. Arriving at the vets Barney was brought into the consultation room, and it was explained he was in the last stage of the disease and there was no hope. If he went back home he would suffer severly, and he would not pass peacefully. Our world at that point fell apart, we made the hardest decision to do what was best for our boy and let him go, the dose was administered and our Beloved Barney passed away finally free of this suffering..
We returned Barney home and laid him to rest in the spot he had been digging at the day before, I believe he was telling us he wanted to go and this is where he wanted to be buried, in the garden he loved so much. RIP Barney -you were our world. You will be forever in our hearts!!! XXXXXX
16 July 2014 From: Steve Gleeson – Subject: Westie Lung Disease
Hi there, Thanks for the information contained on this web page. Austin and Harry looked like typical happy Westies.
We have Molly, who is now 14 and a half, with Lung Disease. We seem to be fortunate, in that she was diagnosed well over 2 years ago, but the recent hot weather seems to have speeded things up.
We have now raised her water and food bowls and also place a fan near her bed, which all seem to have helped. As you said with your dogs, Molly is now slowing down, and coughing more, and occasionally collapses for lack of breath, but appears to recover quite well. The worrying thing for us is how long do we allow this to go on before we consider the inevitable? I am struggling with this quite a bit, as Molly is not only the family pet, but during serious illness she remained at my side always which gave me a vast amount of comfort. What to do for the best? Sorry to go on, but your site has been the best by far.
We have found that a Fan near Molly's bed and raising her water and food bowls is helping. She is still eating normally (if not a little slower) and still enjoys her walk twice a day, but that is slower and not too far. We will treasure every moment with her of course.
Thanks again and best wishes.
 24 July 2014  From: Margaret MacDonald – Subject: Our Alfie
Just wanted to say thank you for the guidance we took from your website re your experience with this awful disease. Alfie was diagnosed early this year after we took him to the vet to examine his constant cough (which was more like him trying to clear his throat). The sent him for scans and told us the worse. We decided to avoid the oral steroids because Alfie also showed signs of Cushings – he was eating like a horse and otherwise healthy. He just couldn't breathe as well as he used to.He passed away yesterday in my husbands arms. All the symptoms you shared – were experienced by Alfie. We gave him Ventipulmin 1ml then up to -2ml x 2 on his food – and Serrapet orally on an empty stomach twice a day for the past 3mths. He was happy and determined to do his own thing right up until early hours of Wednesday when he just couldn't or didn't want to lay down – hours later he was exhausted and we called the vet – but the final moments were upon us and Alfie lay down beside John on the bed and his breathing stopped as did the rasping crackle in his throat. He just let go.We are heartbroken and it will take a while to come to terms without him. We sincerely hope that others get the chance to use your site as it definitely prepared us somewhat for the cruelty of this disease. Alfie would have been 10 this September – so a bit young to have succumbed to such a horrible condition. We truly hope those studying lung disease find the cause or at least try to explain further why it hits The West Highland Terrier in particular.
Interestingly, Alfie's tests for Cushing disease came back negative which astonished the vet as he had all the warning signs of this
treatable disease along with WLD which is why we wanted to avoid the steroids –pot belly and darkening of the skin on his under body as well as the excessive eating & interest in all things food related.  I am not sure if the Enzyme Serrapet™ helped but I can definitely say his quality of life improved after we upped the dose of Ventiplumin Syrup to 2ml on his food twice a day, and gave him 1 tab morning & evening.   I feel both gave him a bit more time/energy and eased his breathing.  His huge appetite remained almost until the end though, so when he refused his breakfast and a bit of chicken on Wed morning we knew he was really sick.
Despite knowing that he had a terminal illness, the speed in which he deteriorated took us by surprise.  As the day before he seemed fine, or the same as he had been a week/month before.  We stay in Glasgow and he had been out with all the family on the Monday – patiently waiting on the Queen's baton relay passing the park beside our house wagging his tail & happy to be among all the excitement.  On the Tuesday evening I walked him around the park, he didn't go far but that was normal lately.  I don't know if something triggered it or his little lungs just gave in re the spread of the scarring to his lungs.
Alfie went to John for fun/walks/play and spoiling, he came to me for food and help when something was wrong- like a stone or thorn in his paw etc.  He tried to follow me around on Wednesday morning but refused food.  I managed to give him some of the syrup medicine directly onto his tongue which gave him respite for an hour or so.  It was his time I suppose, but for WLD he should have been with us for a few more years.  So I am honestly hoping there are some clever people out there who can work it out so that Westie lovers can relax a little bit over their beautiful & brave wee dogs.
We have another dog Gucci, she was our Daughter's dog, a little long haired Chihuahua who followed Alfie everywhere.  She is 6 and very quiet at the moment.  We are keeping an eye on her as like us she is a little lost at the moment.
Warm regards. Margaret & John MacDonald
15 May 2015 From: Krissy Czerski – Subject: Thank you for helping me cope with the passing of Boo
I can't express in words how much you, Harry & Austin have helped me deal the passing on 5/5/15 of my 15 year old precious and beloved Westie, Boo. She was my loving, high maintenance princess who had 2 patella luxation surgeries, ACL surgery, immune therapy, allergy therapies and stem cell surgery for her skin disorders. Other than severe allergies in the last few years, she was a healthy and happy dog. I took my dog to the vet if she looked at me wrong, so I prided myself on knowing "all things Westie.."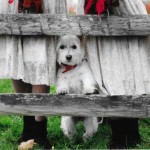 As we were waiting here in the northeast part of the U.S. for this new allergy medicine Apaqil to hit the market and rescue her from her scratching, my Westie started coughing in February 2015. We laughed at first because we attributed it to paw licking and thought it was just fur balls. Soon the laughs stopped, and I realized it sounded serious. Now, Boo had been on steroid shots, pills and antibiotics for at least 2 years off and on to relieve her scratching. The experimental stem cell surgery performed by a world renown vet in the area in October of 2014  made her skin pink, but did not cure her constant scratching. My vet did tests due to the dry cough mid February and decided to put her on steroids again, and coughing pills. The tests showed some cloudy lungs, but overall looked good for almost a 15 year old dog.
The medication seemed to work at first, but they assured me she was good. By March and April, her condition seem to deteriorate quickly. The walks stopped, she slept a lot and lost her energy, but she never lost her appetite.  On 5/01/15, she just tipped over while outside. Panic struck, I rushed her to the vet. The initial exam seemed grim, but X-rays and bloodwork  tests again showed nothing serious, cloudy lungs due to old age or allergy issues I was told. So, back home we came for rest and relaxation. Nothing to worry about, because she had no fatal issues. By 5/4/15, I could tell she was not getting better, and her fast heavy
breathing was constant. That afternoon, she collapsed on my back porch, I was in shock. I threw her in the car and raced to the vet. Again, her gums were pink, and heart sounded good, but the heavy breathing seemed to take her past the point of exhaustion.
Living near by one of the top Vet hospitals in the country, was always reassuring, but my vet thought it wasn't critical to take her but maybe take her in the morning if she still was breathing hard. After pills and Benadryl that night, my little friend still was is distress, restless and reaching her neck up trying to get air. But since she ate dinner and seemed ok at times, we all went to sleep. The next morning, she was gone, asleep forever in her cuddly bed. How could this happen? My Westie was fine one week and gone the next. I needed  someone to explain to me why this happened, I needed someone to blame for not recognizing some underlying illness that went undiagnosed. These last 2 weeks have been horrible with the
guilt of not knowing what went wrong. How could I have failed her when she needed me the most.
My last Westie mommy decision was not to taking her for emergency care that night, but your stories and chronicles of Harry and Austin made me understand and accept the decision I made on that fateful night.  You all gave me answers that I so desperately needed, videos that mimicked Boo's last days. I know now in my heart she did have WLD, and no specialist in the world could have saved her. I'm sure all the steroids just masked the disease for 2+ years, and this went undiagnosed. Maybe for me, it was better to not know she had a fatal disease, because I'm sure the signs would have been more apparent than just chalking them up to allergy problems. Please know that you are still helping people all over the world with your stories and information on WLD. We all wish Westies had the lifespan of people, and I would pay any amount of money to have her back, but because of Harry and Austin, I can finally think of my precious doggie and smile.  Thank you with all my heart.
04 March 2017 From: Lauren Kelsey – Subject: My Westie Lucy
Hi there I just wanted to say thank you for your informative and heart felt website. I'm so sorry you have had to go through this and more than ever know what it feels like. I lost my westie Lucy who was 10 years 9 months old – three weeks ago this Monday coming.
She too had this awful disease. We never knew though. She swallowed a piece of a chew that she hadn't chewed up properly – something that she'd done before as she was such a little gobbler – but this time she was too weak to digest it. After a day of her being starved and not getting it to pass we took her to the vets and during an X-ray they found and hit us with the blow that she had either 'cancer' or this 'westie lung disease'  I thought I knew a lot about the breed and their ailments but had never heard of this before. They had seen her 5 times in 4 years as I was concerned with her lack of energy, difficulty in walking and more recently hacking up and snoring loudly at night. So on this day she was referred to a specialist on the spot and we had to take her 45 mins away in the car, sedated and barely able to breathe, where they put her in intensive care and then hit us with the biggest dilemma. There really was no way out for our Lucy. The chew was lodged in her esophagus and both lungs were over come with the fibrosis and one lung was filled with fluid from vomiting. To put her under would have been such a risk in her then state and to improve her chances of surviving surgery the lungs would have needed to be treated and drained which would have taken days so the chew would have been in there the whole time which could have ruptured and stopped her from ever eating again. We had to decide on the spot but looking back there really was no choice.
Over the years we honestly just felt baffled as to what was wrong with her. Time and time again the vets told us she was fine, checked her joints over and more recently gave me piriton and antibiotics for her in case she had an allergy or a gum infection and advised I get her teeth cleaned. They basically didn't know what was wrong with her. I had her teeth cleaned three days before she died and it turns out she was not well enough to even have this procedure under anaesthetic.
When the vets called and told us they thought it was this disease I looked it up online and your website came up and honestly it was like reading about my Lucy. It all made sense. We were just so angry that we'd been so badly let down. Reading about your dogs being so strong and not scared or panicked by what they were suffering with I really understand this. She was the bravest little girl and from day one this was her way and remained this way up until the day she died. My brave little girl I am so proud of her. It turns out her heart was also enlarged and the level of oxygen was so bad that they couldn't believe she was alive! She slipped away in my hands. A total shock but also left with such anger that we never knew what was wrong with her for all these years. The reason for me contacting you was to say thank you for taking the time to help others and for being so brave as to tell the stories of your two babies. My animals are my whole life and I would do anything to keep them safe and well and you are obviously the same. Lucy was my shadow and I am totally lost without her. The pain is easing but the gap is still as wide as it was on the first day waking up without her.
This is such an awful disease and such a disgrace that dogs 101 videos and breed books mention nothing about this. I will make it my mission to tell westie owners about this condition. I feel so guilty that I took her to a vets that were not up to the job and wasn't able to allow for her condition. We used to leave her at home every other day and walk our shihtzu Max and when we returned one day we could hear her crying from the street outside. This was worse to her than coming along and struggling to walk. I too carried her most of the walk and carried her up and down the stairs. She would jump into my arms just like yours did too! Westies are all so similar but all individual too. I don't think I could ever get another Westie as there was only one Lucy and no other Westie will do for me now. We will get another dog one day. Max is so lonely!
Anyway thank you again.
Best wishes
Lauren