We've listed below a selection of comments left by people on the Contact Us page:
6 September 2012 From: Paula Williamson – Subject: Useful emotional & beautiful website
It was a pleasure to have met both boys. Unfortunately I didn't get to know harry that well. But did get to meet and fall in love with Mr A  aka Austin. I used to care for him whilst mum and dad went to the footie. I soon became his personal assistant on these days opening doors, bum lifts etc . I look after a lot of dogs and I can't speak highly of Neil and Janes dedication and undying love for their boys. They followed every avenue to help them with Wld. I hope this web site will help may other westie owners if faced with this awful disease.
A very good friend of Paula, Molly, a westie whom we had the pleasure of meeting back in January 2013, sadly passed away in July. Here is her story….
19 August 2013 From : Tom & Elaine – Subject : Molly
Molly, was the second Westie we had the pleasure to share a home with. She came into this world on or about the 12th February 2003. She had a tough start to life being the runt of a litter quickly learning to assert herself, which was a trait which continued throughout her relatively short life.
Molly developed into a happy, fun loving and feisty dog that brought a lot of pleasure to all who met her. She was content with her life but had a setback in August 2008 when she contracted a severe dog virus. She was admitted into our local vet clinic & was put on a drip & kept under observation for three days and nights. The vet's prognosis was not good given the condition she was in & it was 'touch and go' if she would make it through the night.The vet allowed us to visit & see her on the second evening & on our arrival she bucked up & had something to eat (hand fed chicken) she was on the road to recovery! In 2012 Molly started to limp quite badly & lift her left rear leg when walking. An x-ray confirmed that she had developed arthritis & may need an operation to remove some bone from her hip that was causing her discomfort. To save her from more distress in her life we first of all tried some alternative methods to manage the arthritic pain but finally decided that an operation was required to restore some quality of life for our loved one. It was during the pre operation checks in November 2012 that the vet noticed some crackling in her lung, which was later diagnosed as Westie Lung Disease (WLD). Our subsequent research revealed that there was nothing that could be done about WLD & that our beloved pet would only have months to live-we were devastated! Before we viewed Neil and Jane's website we had never heard of WLD & found it very helpful to prepare for Molly's demise. Austin and Harry have left behind a legacy that will undoubtedly help others.Shortly after the WLD diagnosis we met with Neil and Jane, the creators of this very successful website & as you know had lost two of their best friends (Austin and Harry) to WLD. Neil and Jane shared their experiences of dealing with this awful disease & based on their experience, administer the steroid via the inhaler method (through the Aerodawg chamber) to deal with the WLD onset. In February, Molly commenced the inhalation through the method. At first she did not like it but when she knew she would receive a treat for good behavior she came to accept it as part of her daily routine.
Up until her final hours, Molly enjoyed her life even though she was coughing a lot more & the crackling in her lungs got worse. The operation on her hip was successful & she could walk and run normally.
In her final month she had to have two doses of the inhaler per day but amazingly still remained in good spirits. Sometimes when she breathed, particularly in the evening, she sounded as though she was snoring & occasionally the crackling sounded like a squeezy toy being pressed. The coughing was always worse first thing in the morning.
Her last day with us was the 30th July 2013; she started it off the usual way with a walk & although a little hesitant she ate her breakfast. We played with her, she barked at the postman, lay in the sun outside & helped her dad in the garden later sharing his lunch. Later that afternoon, things changed dramatically, she went off her food, she had the runs, her tail was curled between her legs & she sat alone staring into space. Occasionally, she would come close to her dad & they even shared a cuddle. Throughout the evening she became agitated, her breathing was shallow & rapid. She bucked up when she saw the lights of her mum's car (who was returning from work) & she walked out tail wagging to greet her. Her mum picked her up & gave her a big cuddle. She remained agitated until her mum put her to bed at 2 am. At 6 am on 31st July 2013 her dad found her at rest. Molly lived to be 10 years & 5 months.We were in shock-had we realised that she was so close to death we would have stayed up with her. On reflection, it is still hard to believe how quickly she went downhill from being in good spirits earlier in the day, to the agitated state in the later hours. In the end she made the decision for us & even though we are still devastated we can only admire the courage of our beloved Molly who left this world as she had lived it "on her own terms". We are still upset that we were not with her in her final moments but at least Molly died at home close to the pack.
Thank you Molly for being part of our lives for over 7 years & bringing us so much love & pleasure-you were a 'one off' loved by everyone who were fortunate to know you. You are a hard act to follow & we miss you terribly, RIP. Thanks, Tom & Elaine
20 September 2012 From: John Parvin – Subject: Angus
I was very moved reading your site. We have a 14 year old westie called Angus. He was diagnosed with this disease in August of last year but probably had it for at least six months beforehand. The vet initially treated him with half a steroid tablet every other day. Results were good with no noticable deterioration or side effects to February 2012. Gradually the dosage has increased and a bronchil dialator added in. Recently his condition has got worse, although he can still do most of the things he likes to do. His main problem occurs on a night when he goes to bed. Just like your dogs he sleeps upstairs. When he tries to settle down he is getting out of breath and then starts panting heavily. Unlike other times of day he doesn't seem to be able to regain his breath. I found your site and today our vet has prescribed the inhaler your dog was on (I printed your story and showed it to him). I am hoping we can maintain our dog's quality of life just as you did and spend a few more months with him.  The vet says he is already his most successful patient with WLD so perhaps its hoping for too much. Thank you for your help.
6 December 2012 From : Mark Etters – Subject : Boomer
I have found your site informative and very moving. Hard to look at some of the pictures, as I have just lost my male companion of 12 years, 6 months. I awoke to find "Boomer" laying near his bed deceased. His symptoms had been getting worse, but this was more sudden. I only wish that I, like you, would have been there. Maybe it wasn't meant to be, but I feel like I let my friend down at the last. Not trying to unload or burden, but only to share and let you know I understand what you have gone through; both the joys and sorrow. My grief is great and I do not know if I could bear it again, but a part of me says that there is another little fellow out there waiting for a home. I will let time help in these matter. Thanks for listening.
26 December 2012 From: James McNally – Subject: MORSEL – 8 YEAR OLD WESTIE DOG
Hi. firstly let me say that I was very sorry to read about the loss of your dear friends Austin and Harry. I appreciate you documenting their story's and honouring their life in such a beautiful way. I know how much this must have been devastating. I believe that devastation is becoming  a reality for me at the moment. I fear my own dear Morsel, a westie dog just turned 8 is succumbing  to this disease. IPF (westie Lung disease) was first suspected from a routine Xray taken when he was just 6. The vet looked at his xray and handed me a description of Westie lung Disease. My heart exploded.  At that time he had no cough or crackles, a perfect subject for early diagnosis if he actually had the disease. After further tests, xrays, cat scans, Lung washes and a bronchosophy over an 18 month period they categorically ruled this disease out even though he had developed a intermittent dry cough by now. They found nothing out of the ordinary in cat scans 18 months apart. I was over joyed. For his cough he was put on an inhaler trying various inhaled steroids. No change. He then just recently developed crackles and in the past week audible wheezing has developed. The vet put him on 2x10mg of Predisone which has really effected him poorly in terms of rapid panting and incessant thirst and hunger. After just 5 days I'm trying to scale him off it as it's killing me watching him on it. Having received very little consistency and help out there from the various vets and  specialist hospitals we visited I feel almost resigned to the fact that my beloved best friend has this disease that our local vet first suspected 18 months ago. He's still so young in his head and wants to go walking and play ball at all times but his lungs are just not allowing him to be himself. He coughs at any excitement or change of air or picking him up. It's become ever increasing. My heart is broken this Christmas as the realization is now set in and I'm suddenly very frightened about the days/weeks ahead in dealing with what's to come and life without him. If there's anyone you think would be good to get in touch with I would be very grateful. Once again, Many thanks for setting up this site in memory of your beautiful boys.  God Bless James
29 December 2012 From: Cyndy – Subject: Lucky
Thank you for sharing Harry and Austin's stories.  We have two websites also, Reilly (8) and Lucky (6).  About a month ago Lucky came in from outside and started coughing and his breathing was labored.  He was fine before that he was fine.  Now he is on a steroid, a dieretic, heart med (for the murmur that developed), and a antibiotic.  He has his good days when you think nothing is wrong and his bad days when you wonder how much precious time is left.  It is very hard to go through.  I have copied several articles to give to my vet about wld and just forwarded your website because Harry's story sounds very similar to what we are going through now.   Thank you!!
5 January 2013 From: Dolores Ibarrola – Subject: Congratulations on your page
I was looking for westie lung disease because I would like to help a friend with a 9 year old westie who might have westie lung disease (we'll know in few days). We have met through a westie forum and we are westie lovers. She lives in the UK and I bet this page will be so helpful and it will help her to cope with all the situations. So sorry for your loss, I can imagine the pain of losing 2 westie-kids. THANK YOU FOR YOUR PAGE. All my best, Dolores Ibarrola, Mexico
11 January 2013 From: Karen Morgan – Subject: Lily Morgan
Your stories moved me to leave you a message as I know now what you went through. I lost my little westie girl called lily this week and her symptoms were identical to your harrys even down to the age she was. The only difference is that I had to make the decision to end her suffering and have her put to sleep. This is something I am struggling with at the moment as its still raw. I loved her with all my heart and now I am totally lost. Thank you for your site which has helped me.
17 January 2013 From: Glenn Gatley – Subject: Your site
I am so grateful for you sharing your boys stories as I am currently dealing with our five year old Westie girl that has yet been diagnosed. She is currently at the University of Gainesville Vet Hospital in their ICU unit being administered oxygen and antibiotics in the hopes that her breathing will stabilize. Our current dilemma is the following, 1. her symptoms were acute, she just starting struggling with no previous signs or issues and 2. she just turned five years old on New Year 's Eve. We have been told that this usually is a progressive disorder that shows signs and then worsens (not the case with our Hollie) and we have also been told this is common in Westies 8+ years old (again, Hollie is almost ½ that age).  The Doctors are unwilling to perform any invasive procedures due to her current breathing difficulties, so other than chest x-rays, blood work-up's, and an "echo" cardiogram… we wait, we cry and I find inspiration in your stories. For this I sincerely thank you. I feel blessed to have been fortunate enough to share our Westies lives with ours as I'm sure you feel the same. Again, Thank you. Sincerely, Glenn Gatley, Florida
19 January 2013 From: Bryan – Subject: re westie lung
Hi, we lost our westie named Snowie a few months ago. He was 16, we had never heard of westie lung disease until the day before he passed away. We had to take him for a checkup on his pacemaker and the specialist notice a noise on his lung and took an x ray, the specialist then diagnosed westie lung disease. He was a brave little soldier, We took him every where including holidays, my partner and I both work from home so he was with us 24 / 7. He was a challenging dog who came from a rescue center but we wanted to give him a chance. He had a pacemaker fitted about 6years before his death and I suppose that this helped his body to mask the symptoms. We kept up with his inoculations and if he had a problem we visited the vets, He was quite a celebrity down there at the vets as he had a pacemaker fitted and to be 100% honest I dont understand how our vet missed Snowy's symptoms and feel very let down by them.
We both miss him dearly but now his sister Molly who is eleven has also been diagnosed with the disease, our vet has prescribed steroids for her. We just hope that she doesn't suffer towards the end. I hope that others will read our stories and get help asap if their westies start to exhibit these symptoms.
On 20 December 2013 we received a very sad follow up note from Bryan….
Last august we lost our westie boy named Snowy, he was 16. The day before he passed away he was diagnosed with WLD, he had a pacemaker fitted in 2006 by Martin Referrals in Kenilworth. I believe his pacemaker helped to hide the symptoms of his WLD.
A couple of months after his death our other westie named Molly was diagnosed with WLD, her condition deteriorated so much so that her breathing became very laboured, her whole body would rise and fall with each breath. In the last week of her life she was having trouble even walking to the bottom of our garden and would occasionally trip.  We bought a dog buggy for Snowy and passed this to Molly so that we could go for walks with her. Up until a couple of weeks ago she would walk a short distance and then we would push her in the buggy; our other westie is 2 years old, he needs exercise so the buggy meant we could all go for a long walk. We took her for walks around conkers and also went to Anglesey on holiday in july with her.
She passed away yesterday 19/12/2013. Phoning the vet to ask them to come over was one of the hardest things we have ever had to do. She didn't suffer whilst she had WLD but her quality of life had deteriorated so much that we had to do it for her sake.
Its hard to believe that 18 months ago we all went on holiday to Woolacombe and now Molly and Snowy have gone.
27 January 2013 From: JANICE WHYMENT  Subject: SWEEP 02/07/01-20/01/13
I too lost my beautiful boy last Sunday to WLD, he was 11 1/2 years old and was first diagnosed with WLD 18 months ago.  At the time it came as quite a shock as he had been admitted by the vet to remove 1 of his anal glands as he had troubled with them for some time, on the last visit the vet had found a small lump on one of his glands.  When he went in for the op to remove the gland his breathing was quite bad so the vet decided to do a chest xray whilst he was under anesthetic.  As well as them finding that the lump was cancerous, they also  showed me the xray's of his lungs and advised that his heart was also enlarged.
At the time I was more concerned about the cancer, but was advised that it had all been removed and hopefully wouldn't return.  Needless to say I went home and started searching the internet for WLD. At the time there wasn't much information.  I read a story about a Westie named Scamps which brought tears to my eyes and also read that the prognosis wasn't good, maybe as short as 8 months.
Sweep was prescribed steroid tablets, Bisolvan sachets and also Vivitonin.  These did seem to control his breathing quite well along with limiting his exercise, which was very difficult as I also have another Westie called Ace who will be 13 in April.   Luckily I have a small park across the road from my house, so Ace could saunter around quite happily and Sweepy would hover around my ankles, but quite happy to still be a part of the daily walk. Christmas 2011 came, then his 11th birthday and then Christmas 2012.  I felt blessed that he was still around and can honestly say that he had seemed really well for the past 6 months, so I had no inkling of what 2013 was going to bring.  Then a week last Sunday I took both my boys to the park, it was a bitter cold day and there was also another dog on the park playing ball.  Sweep used to love chasing his ball on the park, but due to his illness I'd stop taking it out with me.  He decided to get involved and try to chase the other dogs ball.  Whether it was the cold weather or the strain of chasing the ball I will never know, but when we got home he couldn't stop being sick, he looked appalling.  on the Monday I took him to the vets and she advised that he had a large build up of fluid on his lungs which could be due to secondary heart disease.  He was given an anti sickness injection and prescribed frusomide to clear the fluid.  That evening he seemed to get worse, he was shaking with every breath he took and just staring blankly into space, his eyes seemed sunken in his head.  I took him to an emergency vets expecting the worse, but they kept him in and put him on a drip advising that he was slightly dehydrated.  The morning after I collected him but was told to take him straight to my own vets due to his laboured breathing, which I did.  He was so poorly, he even let my vet xray him whilst he was awake. The xray showed that he had a space in his lungs the size of a ten pence piece in which to breathe.  I just new in my heart of hearts that he wasn't going to get better.  The way he looked at me, he wouldn't even open his mouth to have his medication, it was as if he was trying to tell me he'd had enough.  As a last resort on the Thursday, the vet gave him a massive dose of steroid and advised that if there wasn't an improvement within 24 hours, then she didn't think there was much else they could do.  I rang the vet on the Saturday and we d ecided it was best to bring him in on the Sunday.  The Sunday morning was quite strange he actually jumped down off my bed (where he slept beside me every night) ran down the stairs into the garden, ate some chicken and rice and even grabbed his squeaky ball.  On the way to the vets I was having second thoughts about my decision, but we got out of the car and just the short few steps into the vets had caused his whole body to shake he was so breathless.  It broke my heart to say goodbye to him, but I think it was the right thing to do.I miss him so much, but now instead of him lying on the pillow next to me I have a picture of him on my bedside cupboard and he will remain in my heart forever, love you Sweep x
I would like to say a big thank you to you both for this site and sharing the lives of your 2 boys.  I'm sure there will be may other people that will get comfort from reading your stories.
6 February 2013 From: Fiona Green – Subject: WLD
What lovely stories, and I'm in tears as I write this, having just lost our beloved westie to the same disease. These beautiful little creatures steal our hearts, don't they. The reason I'm writing this, is to hopefully tell other owners who have just had the horrible diagnosis, that there is a tiny bit of hope and that you can enable your little westie to keep a good quality of life until the end, god willing. I know every dog is different, as seen by your two gorgeous pooches,but we were able to keep our little Jodie for 2 years after her diagnosis of emphysema and congestive heart failure.
A combination of Vetmedin and Frusedale, for her heart and water on her lungs, and the antibiotic Synolux, which kept other bacteria at bay, helped enormously. We were lucky with our vet in that he was happy for her to be on antibiotics for 2 years, (the side effect being that it helped her tummy problems!!) plus I gave her some enzymes Serrapeptose (for the inflammation, which also dissolves the fibrin around the lungs) and Nattokinase to help circulation, and Q10 to help her heart. She was also having a lot of healing as well….always on her terms, and only when she wanted it!! All these kept her incredibly stable until right at the end, when, just like Austin, she ate something in the garden which triggered a very rapid deterioration. She was able to avoid being on steroids, which she didn't do well on, (which may be the same for a lot of dogs) and she was playing with her ball and enjoying life to the full, until the sudden deterioration. She was 13.5 when we lost her, and she fought like a little lion to stay, and kept her dignity, and wonderful pure essence until the end. Our hearts go out to everyone who may be going through this with their beloved pets, and I hope what we did may help.
Some further very useful information courtesy of Fiona (with our huge thanks):
I was going to add that I bought both the Serrapeptose and the Nattokinase separately, not as a bundle like Serracor, and in the capsule form. I then opened them up, and divided the powder by 7 – a blob for each day, and the same with the Q10 (for strengthening the heart) so the strength was right for our tiny friends.
We had Jodie for 2 and a half years after it was first thought she may have WLD. What I now understand, is that if we had fully realised and been diagnosed definitely at that time,we could've started her straight away on the antibiotics, and enzymes. As it was, by the time she was fully diagnosed,  and went onto medication, she also had congestive heart failure, possibly caused by the heart having to work overtime… but from that point of being given just a couple of months  to live, we kept our darling girl for another year and ten months, with the regime I described in my earlier e mail.Again, I just wanted to give some hope and positive actions to anyone who may be just suspecting WLD, before it gets too far. The healing she received as well, had enormous benefits. Here's to knowing, we all had the most beautiful, amazing little characters that anyone could wish for, and we know they will be forever in our hearts.
If anyone would like to find a qualified animal healer near them then www.healinganimals.org is very good. Even if you don't believe in healing if it works or helps then everything is worth trying and this does work!!
15 February 2013 From: Linda – Subject: Westie Lung
Hi, firstly let me say how sorry I am that both your dogs were lost to this terrible conditon, and thank you for telling their stories online. My westie, Bonnie had just been diagnosed with it, and after 6 weeks on anti biotics, she's been given steroids. I am interested in finding out about the inhalers you reccomend and will speak to my vet next week.
19 February 2013 From: Julie – Subject: Bailey
My Westie Bailey started coughing a couple months ago it was like he had something stuck in his throat. I went to the vets who said he had lung disease and that if it got worse he could go on steroids. I was worried about this as Bailey has had two knee ops on his back legs so didn't want him to put on weight because of his knees so the vet said he could take steroids through an inhaler instead.
Over the last couple weeks he has been coughing more but over the last two evenings he has coughed during the night which is a first. So to help find ways the help Bailey this morning I went on the Internet for help and came across your amazing website about Austin and Harry. Made me cry my eyes out their stories and similarities between them and Bailey. My Bailey boy is a lot like Austin, he's so loyal, humorous, loving and my special boy as its only ever been me and Bailey. I feel he's my soul mate. Julie
We then had a very sad follow up note from Julie on 29 November 2013 ….
Sadly the disease got the better of him and in May 2013 his health deteriorated. He first suffered with a very upset belly and then his breathing went down hill so much so that the last two night before he passed he hardly slept and became quiet distressed and one of those nights that I stayed up with him I heard a rattle on his lungs. I couldn't let my boy suffer anymore and on the 29th May I made the hardest, most awful discussion I have ever had to make in my life and had Bailey put to sleep. I feel like a bit of my heart died that day and miss him so much. He was my boy, my life, my world. I will never forget him and think about him everyday. I still can't get over how quickly and horribly this nasty disease took him. But to my boy I would like to say thank you for you unconditional love, loyalty and for making my life. You will always be a big part of me. I love you and miss you so much.
21 February 2013 From: Jan Smith – Subject: Dodger 
My baby was recently diagnosed with this disease that I didn't know existed for dogs. He has deteriorated over the past few days
and the vet felt when I took him yesterday it would be kinder to put him asleep, but I wasn't ready to let go. I found your website last night and your story along with the comments left by other visitors broke my heart.Sadly this morning Dodger went off his legs and his breathing was difficult, I myself suffer with Emphysema and know how debilitating it is not to be able to get your breath.
I couldn't face letting my precious friend go like that and so I took him back to the vets, he is now with his ladyfriend Meagan that I lost 4 years ago.
My heart is utterly broken and I am so lost.
An update from Jan on 24 June 2013 
Hi, thought I would share this with you. Meet Reggie, he is 10 weeks old.
I said after Dodger went I couldn't have another but I missed him so much and the years of unconditional love and devotion far out way the pain of them going. I am sure I will have many years of the same with Reggie.
Many regards Jan.
.
25 February 2013 From: Christina Young – Subject: Diagnosed with Westie Lung Disease 
Our beautiful wee lady Westie, Tara, has just been diagnosed with this terrible illness and we are heartbroken. Tara is 12 years old will be 13 on 1st May (God willing) so realistically she is quite old for the fight that lies ahead of her. She is on the breathing tablet and an antibiotic at the moment. She goes back to the vet this evening to be assessed for steroid inhaler. The vet wants to do a chest x-ray to confirm spread of disease but we are very very reluctant to put her through this so we are thinking we will decline this. I just wanted to say thank you for this wonderful site which has told me much more than the vet did about this horrible condition. The story of your boys has had me in floods of tears and I am dreading what lies ahead. Thanks, Christina
 28 February 2013  From: Sue McPhee – Subject: Thank you!
One of the most informative, compassionate sites that I have visited since I found my baby – Maggie – has PF. She is only 6 and this is killing me. She is my life. Thank you so much for your insights and 'what to look for' signs. Right now, she is still happy and playing … but slower. Believe it or not, I took a leave of absence from my job to be with my best friend!!! Amazing dedication to the most amazing 'puppies' (other than mine – lost my first baby girl to cancer at 10) . Truly hope that you have 'had' more babies!!  Thank you for helping me understand what my vet is afraid to tell me! Fondly – Sue
28 February 2013 From: Sue – Subject: WLD
We have a 12 year old Westie, who for many years has been Diabetic we inject 2 a day and she has been on a low dose of antibiotics for years as she picks up anything and we have not been able to walk her for years in public places as she would become ill, not eat then we couldn't inject. She has had 2 cataract operations and know been diagnosed with WLD. We have shared wonderful times with Ellie but have decided that as soon as her quality of life deteriorates we will not prolong her life by more medication. We would not have had her this long was it not thanks to Pet Plan as we have or they have spent thousands on our wonderful little dog. X
28 February 2013 From: Maureen Mitchell – Subject: Fur Babies 
Thank you for this site. Wow, I am thankful but so sad for yall at the same time. We have 3 Westies (fur babies) and 2 of them will be 17 this year. I had NO IDEA this even existed! We rescued Spanky & Darla when they were 8 from being neglected and abused. The 3rd came to us from a neighbor while living in Atlanta, Georgia, she is now 4. My little soul mate Spanky has just been diagnosed with this lung disease. My heart aches but I know that energy can go to trying to find ways to heal and help him. I am currently doing laser light therapy treatments as well as giving him the sildenafil. I am in the process of ordering the 2 products Fiona was talking about in her post. My fur baby cannot do this on his own so we will do what we can to help. I would love if you could pass my email address to Fiona, if possible, because I would love to ask her about the dosage she gave to her sweet baby. If you want I can keep yall posted because I am a little angry that we rescued 2 Westies and never knew about this. I am not saying we would not have rescued them but I think there is a responsibility for all of us that know to try and educate everyone else. Spanky was also mis-diagnosed with congestive heart failure. Thank GOODNESS I saw what the Lasiks was doing to him and took him to a cardiologist. I also think since the fist vet I went to mis-diagnosed him that they have a responsibility especially when dispensing such a harsh drug as Lasiks, that they encourage people to go to a cardiologist too. I am so very thankful to have found this site but like I said so sad that you had to go through this. My heart goes out to you but thank you for having the strength to inform the rest of us! God Bless You two! Maureen Mitchell & Spanky too : )
Update from Maureen – 22 April 2013
I just want to say boy I don't know how you both did this; it is hard. Almost 2 weeks ago now Spanky decided he really wasn't that interested in his raw food anymore. I offered him chicken, ground beef, salmon and any thing else I could think of, Lobster? You want Lobster…OK…ha ha. He probably hasn't eaten a cup full of food in over a week. I don't know how the little guy is doing it. There have been "several" days that both out loud and to myself I said goodbye to my love. Then…the next day he was up walking around like there was nothing wrong! I went back to your stories several times thinking this was his Swan Song. It is sad because I am not sure what to do for him and just trying to keep him happy. He did get a horrible almost like sinus infection with a lot of green snot coming out of his nose. This certainly hasn't helped him breath any easier. I did have some antibiotic that I started to give him because it was so bad. It seems to be doing some better but he still has a lot of it. He is not eating so I cannot give him his medication but in a strange way he seems to be doing better without it because he has not had any episodes of collapse. He was having more and more of these and I suspected the medication but didn't really know.  I think the Viagra gets him going to much and then he breaths heavy and that is when he collapses. We really thought we were going to lose him so I just left it alone. WOW this is hard. Don't get me wrong I feel bad for him but the emotional roller coaster is tough. I really feel for everyone that has gone through this. Today he ate a couple (two) pieces of kibble, certainly not enough to do much but he is still drinking and going potty. I keep looking for my lessons in all of this as I am sure they are there. Part of me has had to let go of the control of thinking I know what is best for him. He has shown us that he is on his OWN agenda 🙂 Yep, he and God know what that agenda is but we really don't. We need to respect that he knows and trust that even though it is hard (there is a lesson right there). At first I was so upset that he didn't want to eat because I knew what that meant (well I thought I did). I had to say if he doesn't want to eat that is his choice, he doesn't want to sleep on his pillow, that's OK too. It is hard for sure.
I hope you both are well and I thought I would just update you on my little man 🙂
Have a beautiful day to both of you!
xoxoxoxoxo
Maureen
Further, very sad, update from Maureen 11 May 2013:
I thought I would let you know we lost our little man tonight. He passed away in my arms and I could not have asked for more. I am sad but OK. It has been a rough 2 months for all of us. Funny though he did eat today, I made him a couple little sirloin burgers! He had been pretty good the last couple days. He stayed up with Luc so I could get some sleep and had a little episode and then passed away in my arms. I did ask him for that and so thankful he did that for us. Thank you so much for all your love, support and kind words.
xoxoxoxxoxo
Maureen
2 March 2013 From: Bonny – Subject: My Ailing 15 yr Jimmy
Hi, I was very moved by your story and realise how difficult it must have been for you to put pen to paper to share your happiness and your loss, as an owner of 2 westies (the other being my cheeky addisons disease 11 yr Molly) I am very grateful that you did, thank you. My hardy little Westie is now 15 and he has been on corvental since Oct. 2009, for what the vet said was westie lung. He is only on 1 daily. In December his coughing increased at least 12 times daily and he started to collapse and fall on his side and with some signs of fitting. My hubby takes him to PDSA as I have to tend to Molly. He told the vet what was happening and he came back with the same 1 daily corvental. The vet said he was in early stages emphysema. I was so angry, just what had they been treating him for the last 4 years with corvental. I know he's older and know it's progressive but surely some of the symptoms could be alleviated and be more comfortable, I must add though that Jimmys appetite has not changed, he can eat for England 🙂
I found a herbalist and Jimmy has been taking herbs now for 1 month, she advised change of diet to tuna/mackerel and bran. The improvement in his condition started 24 hrs later, his coughing dropped by half and he has seems mostly now to keep standing when he does cough. I would say he has had only had 5 collapse in a month, which is brill for him and good for my heart. Yesterday though he was in the garden and my hubby said he won't come in and he was just lying by the pond (which is unusal for him, I had to fetch him in). He is fine now, but it's such a roller coaster ride, 1 minute I think it's time, the next Jim is mowing around looking like there's nothing wrong. I am happy that Jim and myself have had so much more quality time since his change of diet and herbs. I have also put molly on herbs to help her addisons. Thanks for listening, I wish you all well. Bonny
19 September 2014 – we received a sad update from Bonny…
It has been 18 months since I last posted about my Jimmy. On 12th September 2014 I gave my boy the last gift that I could ever give him….. He had done such a good job looking out for me  for the past 16 years & 6 months that I had to make the ultimate sacrifice and let him go, he deserved a peaceful sleep. My heart feels like it's been ripped apart. My consolation and focus is on cheeky Molly(12yr) and tending to her addisons disease needs.
My Jim could hardly see or hear but he soldiered on. He remained on herbs and smelly mackerel and I am positive that his condition was made more comfortable by this. He didn't have anymore collapse and fitting and his cough was minimal and he ate his food (though watered down) till the end. I am so grateful to the herbalist for giving him remedies that gave him quality until it was his time to go. My thoughts go out to all westie owners who have loved and lost their most faithful friends.
Kind wishes, Bonny
2 March  2013 From: Drew McMutrie – Subject: WLD hopefully not ….
I read the stories of Austin and Harry and all the others in floods of tears. I am a 59-year old man not generally given to such emotion but we have a wonderful 4-year old Westie called Monty, who fortunately seems perfectly ok at the moment, but we have had 2 dogs (a beagle and a cross) in the previous 18 years and the pain of both their passing is still vivid. I find it hard to believe that there is so little general knowledge of WLD. We got Monty 2 years ago – he is a rescue dog – and until today I had never heard of it. We were so pleased that Monty did not suffer from skin allergies which we warned to look out for… I will demand that our vet sound his lungs properly every time we visit (hopefully only for the regular innocuous things). Monty is demanding in some ways (he has some "baggage") and can be very annoying but he is also the loyalist, cuddliest, most adorable pooch you could meet. We love him dearly – as do all our friends – and hope to have him another 10 more years at least… God and WLD willing. My heart goes out to all those whose beloved companions are suffering from this awful afliction. I wish all of you all the best.
6 March 2013 From: MICHAEL GRAHAM – Subject: WLD 
We have just lost our little boy Mack to WLD last week. It is a cruel and striking disease. Mack had an operation in November 2012 to remove a lump from his eye. At 15 we were concerned he would pull through the operation. While under, he was fine, his bloods perfect, his heart working like a ten year old. We were delighted and hoped that we may see Mack reach his 16th birthday as he appeared in good health and very active.
A little over 3 weeks ago Mack began coughing and was sick, which had a very potent smell attached to it. We rushed him to the vets and this was the first time we had ever heard the term Westie Lung. Mack was given steroids heart tablets and other medications to help his condition. Only 3 weeks later we had to make the terrible decision of doing the kind thing and saying goodbye to our beloved little boy?
The disease is real, with terrible consequences, Mack 18/09/97 – 28/02/2013 R.I.P
10 March 2013 From : Alison Fairlie – Subject : Our Westie Crystal 
First of all your stories about your little babies melted my heart. 2 months ago our Westie starting coughing, we weren't unduly worried the vet put her on antibiotics. Then her cough became more gagging and choking, her breathing sounded strange. We took her back to the vet, it was a new vet, he listened to her lungs for 10 minutes, then the news that shattered our world "Westie lung disease"!!!! never heard of it we replied. We lost our precious Sacha at 17 years before we got Crystal. We new what westies suffered from but Westie lung disease????
I googled it straight away and came across your web sight. Our little westie has just turned 8 years she seems ok in herself at the moment we are spoiling her so much. We know its a waiting game, your stories are so beautiful. Our only fear is having her put to sleep. I agree about spreading the news of this horrible disease, I have friends on Facebook who own westies, I have  warned them of this affliction. I think breeders have a duty to tell future owners about IPF. thank you, Alison xx
.
21 March 2013  From: Ken & Sandra Matthews – Subject: Our Bonny Wee Rosie a Darling Westie
.
Your web page is helping us  get over our beloved Westie Rosie passing. She lived for 15 years and 4 Months. She developed diabetes 3 years ago & was injected twice a day. She had some of the symtoms of westie lung. The only stress she showed started at 11.30 on Sunday night. we had a bad night called the vet at 6.00 am she died at 8.40 am.
We have cried since then our lives seem now so empty.
She was our Bonny Wee Girl
–
5 April 2013 From : Becky Hill – Subject : Your site
.
Thank you for sharing Harry & Austin's story and treatment.  We lost our sweet Betsy who was 13 (though we adopted her at age 7 so we did not have as many years with her I wished) at the time this awful disease and breast
cancer which she contracted shortly after being diagnosed with Westie Lung Disease.  Now our dog Spike is showing the same symptoms that Betsy did with the coughing up phlegm and shortness of breath which is why I was searching the web for some answers.  They were not from the same breed so I was hopeful they wouldn't share the same fate.  Spike hasn't been diagnosed officially yet, he goes tomorrow.  But after reading your site and my past experience with Betsy I know this is what he has and I am heartbroken.  Spike will be 10 in Sept.   I'll be taking what I have learned from your site to the vet with me tomorrow, hopefully they will be open to some none tradition treatment with the Aerodawg, Betsy didn't do well with predisone.  Thank you again, your boys   were so precious!  I know you miss them everyday just like I miss my Betsy.  Westie love to you both!
6 April – update :
Good news, at least we hope so.  The vet feels Spike may just have an upper respiratory infection.  She says his lungs and heart sound clear and she didn't feel he needed x-rays at this time.  She sent us home with an antibiotic and a cough suppressant.  We'll see how he does and go back in 2 weeks for recheck.  That being said I asked her if she was familiar with Westie Lung Disease, she said she's "heard of it", so I'm not sure she'd know it if she saw it.  We'll be keeping a watchful eye over him and time will tell, perhaps, hopefully she is right and the antibiotics will do the trick!!
Thank you again for the information shared on your website as well as your lovely boys stories.  God's blessings on you both!
Your friends in North Carolina!
07 Apr 2013 From: Sharon Thomas – Subject: Westie Cough
Thank you so very much for this honest, detailed and useful page. I have two Westies and walking them today, we met another pair of Westies we know well, but who are older than mine. The owner explained that the rapid deterioration in one was Westie Cough. I had never heard of this (or Westie Lung) and found your page through google – obviously worried. I now know what to keep my eyes and ears out for – thank you. If I might suggest, please could you add the term Westie Cough to your page because there seems to be this second term in use as well. Thanks again.
Sharon
06 May 2013 From Jean Stone – Subject: Daisy
Following some correspondence from Jean about her Westie, Daisy, who was diagnosed with WLD in January, Jean dropped us a line….
Daisy has become a shadow of herself.   My son visited this evening (he hasn't seen her for three weeks) and was absolutely stunned at the difference in just that short time.    I just can't believe this is happening.    However, I have had four months of Daisy's company since she was diagnosed, and I have looked after her as best I can.    At this stage, I am giving her everything she wants.   Her food and water intake have increased enormously, and she has nasty black stuff coming out of the corners of her eyes.   She's very slow, sleeps an enormous amount, and doesn't want to go for walks much. I concocted the doggy-buggy in the photo so that she can come out and get some fresh air but rest whenever she wants to.   She will fall asleep in the basket very easily. I don't think we will have Daisy for very long now.   I'm not prepared to let her suffer.   We are going to the vet tomorrow to see if he can tell me how far the disease has progressed, and will then decide what to do.   Thank you for your support
30 May 2013 From: Toni Stewart – Subject: Eddie
Hi, my name is Toni Stewart. I have a 14 year old Westie who is diagnosed with Westie Lung Disease.
He is currently on Theo-Dur and Temaril P. As of late he is having a very difficult time breathing. Did you ever use a nebulizer on your dogs? Did you have any success with any medication for your boys? He is always sleeping and when he is awake he is coughing and his breathing is heavy. You went through this twice I'm not sure what to do and I am devastated.
I found your website trying to do research on this awful disease. I was moved by the stories of your boys and for you to take the time to email me back means a lot to me. No one knows how awful this disease can be unless their baby has gone through it. I'm going to keep my eye on him the next few days.
02 June 2013 From Judy Enersen – Subject: Stitch
Thank you for sharing your story and teaching me about this terrible disease. My female Westie, Stitch, should be 10 in July, God willing.
She too, has the genes and the disease. She started showing symptoms three months ago – shortness of breath, wheezing, loss of appetite, lack of interest, a feeble bark. My family and I took her to the vet who began giving her meds that had no effect. Trips to the vet, trips to the emergency clinic, over night stays, x-rays, scans . . . . all seemed to gather different opinions. But, thanks to your information, I queried, "Why can't this be WLD?" And sad, to say, it was. Stitch now has two nebulizer treatments a day and takes a heart med and an antibiotic.  She still sleeps most of the time and has trouble breathing when anxious or after doing her outside duties. But, she is happy, has her old bark back, thinks she's a cat and loves their food. She also has learned how to sneak pills out of cheese and tuna. Every day with her is a miracle and as I'm busy petting her and kissing her, I tell her how much she means to me. I have had Westies for 40 years and never, never dreamed this fate could await such special friends.
06 November 2013 – we received some sad news from Judy….
Yesterday, we lost Stitch. She put up a brave fight, but that nasty lung disease finally worked its evil.
We were fortunate, though, as our goal was to make it to her 10th birthday which was July 6. In her treatment, she showed no signs of improvement with Prednisone  so we would nebulize her twice a day with albuterol along with an oral heart medication and an antibiotic.
She was our joy and although we miss her terribly, I remember how hard her heart had to work and how difficult her breathing had become. And as I kissed her goodbye, I wished her well on her journey.
07 Jun 2013 From: Christopher Kirwan – Subject: Westie Lung Disease 
Hi Neil and Jane, I found your website last Monday and only wish I had found it sooner. I lost my beloved Max who was just 12yrs old last Saturday and we had to put him to sleep as he went downhill in a week very fast.
He was diagnosed last november only but must have had the disease for a while before that. He was on steroids and dose was doubled only a month ago, I thought we would still have him for xmas or thereabouts but we are so in shock with the sudden decline! We are all heartbroken here as he was a member of our family! The house is so quiet and we will never have another dog like him – he was so kind, loving and so intelligent.
I found great comfort in reading your stories of your two boys and the great life they had with ye both but I'm also so sorry for your loss! I watched the videos of both dogs and my Max behaved just like that before the end as in sleeping and slow walking etc. I'm going to get another dog at some stage but it's all to soon and the hurt is hard so we are grieving the loss of our dear friend. Best wishes to ye both in the future and well done again on Harry and Austins memorial site! Christy .
09 Jun 2013 From: Nicola Riggott – Subject: Leo
I am sitting on my sofa with my precious boy Leo. He has this terrible disease and in the last stages. Your information has given me an insight as to what I have to face but also given me a greater understanding.He was diagnosed April 2012 but had symptoms long before. He too has been on the same medication. It will of course be a horrendous blow when his time comes, as he too lost his lifetime buddy my other westie 'Gucci' to a bladder tumor on 28/10/12.
I would just like to thank you for all the info you have shared and for your moving story. I write this in absolute tears! but thank god that we all have been blessed with such furry white treasures. xx
20 Jun 2013 From: Alison Hallewell – Subject: My westie called Haggis
Thank you for sharing your story. Unfortunately my experience happened very quickly. Six weeks ago my westie started with the cough, it would happened maybe two to three times a day, at first I thought she had something stuck in her throat, I could also her a crackling sound when I was sat close to her. I took her to the vet and he said this was not good, which of course scared the hell out of me. He gave me some tablets, which were steroids, he said he had had some good results with them.Over the next couple of weeks she was up and down, and on walks she was tiring very easily and like you said would be constantly sniffing. The walks became less and less, and her breathing became more rapid, to the point were I thought she would hyperventilate. It was only after reading your story that I knew what was ahead of me and my poor little dog.This Monday morning just gone when I awoke at 6am I found my beloved Westie lying dead beside me. The whole process from hearing the cough to her dying only took 6 weeks. I am totally devasted!!
The only comfort is, that the day before she died she spent the day with the whole family and enjoyed some roast beef, and she sat with me the whole day, never wanting to leave my side.
She is now buried peacefully in our garden, she has certainly left a huge hole in my life.
01 Jul 2013 From: Jayne Ross – Subject: Chalky 
Hi, I lost my Westie Chalky yesterday, he was diagnosed in January with WLD and I have to say your site was such a comfort to me, your description of your boys symptoms helped me understand where he was up to. Initially Chalky started with a cough and was given bronchilators and steroids, which increased his already huge appetite !! His symptoms were the same as your boys throughout, he slowed down gradually and for the last month he was able just to walk around the block that was enough for him. My biggest shock was this last weekend, he seemed to distance himself from me and my partner, he would not come for his comforts and when we tried he would always walk away….it was so distressing and so out of character. He could not lie down comfortably and was extending his neck as if trying to sniff the air, he would stand in one spot for an age almost sleeping standing up.
We took him to the vet who initially could not find anything wrong and though he may have something wrong with his stomach, she gave him an injection and said it would knock him out for a good 8 hours and give him some comfort….it did not work and on Sunday morning he was so distressed….it was as if his spirit had already left he was just staring into space (almost like the lights on but nobody's home).
I took him back to the vet and made my decision that I could not see him suffer anymore….it just wasn't my boy. He was panting excessively and when they gave him his injection he looked so peaceful. I am convinced he knew he was dying and him distancing himself was his way of letting us know….I had Chalky from a pup for 14 years and 9 months and until January had never had any illnesses at all, so I thank my lucky stars that I was blessed with such a loving boy who was my world. The really tough time starts now as I will miss him so much.
I hope you will share my experience as it may help others as your stories and others helped me throughout.
27 July 2013 From Kornel Toth – Subject: Finnegan
My beloved Finnegan was diagnosed today.  Please forward any information that may help him in his final days.  I am heartbroken, Finnegan will be 9 on August 18.  His panting started about a month ago but we were having very hot days so hard to tell if it was the weather or his condition.  Having read your site, I will discuss the inhaler and the diuretics with the physician as he is taking the steroid tablets now.
I will go over all the details on your site again as I was in a state of shell shock yesterday and was reading but not absorbing the information.
Best regards, Kornel
On 12 Nov 2013 we received some sad news from Kornel regarding his dear Finnegan…
My beloved Finnegan "Bones" lost his battle this Saturday from this dreaded disease. He had been doing well on the medications but turned for the worse within a day. He was stabilized in an oxygen crate.
My wife and I made the decision to, as a friend said, let his wonderful pure soul free of the body that could no longer sustain it. I loved him too much to let him suffer. He died in my arms as I cradled him.
I miss him so much. The grief comes in waves. I will be fine and the next minute I am sobbing. Good bye my sweet Finn. Now I need to work on getting into heaven to see you again.
9 August 2013 From: Christine Tait – Subject: WLD Hamish
Your web site has been a great help to me I have visited it so many times in the past few days. My westie  Hamish  born on  the 9.9.1999 has just been diagnosed with WLD and he must be in the later stages; he had x rays and a general anaesthetic yesterday and today he has been struggling to breathe despite starting steroids and dilators, I know it only the 1st day but it so hard to watch my little man suffering, fingers crossed he will feel a  bit better tomorrow, as I do not want to have to make that decision, especially as I have to carry him into the vets as he always gets nervous . It now very late and I am sitting up with him as I do not want to leave him on his own..
On 30 August, we had some very sad news about Hamish….
Just an update on Hamish, today I had to make the decision I did not want to make as my little man was suffering with the terrible condition. Thank you for this web site as it has been a great help and comfort, just knowing other are feeling the same sadness as my self. Thank You again.
14 August 2013 From: Rachel Taylor – Subject: Pulmonary Fibrosis in Springer Spaniel
Dear Neil and Jane, Thank you for such a lovely website offering support to owners of Westies with Pulmonary Fibrosis. I hope you don't mind me contacting you, but while we don't have a Westie, we do have a very loved Springer Spaniel aged 14 just diagnosed with Canine Pulmonary Fibrosis.
I understand this is extremely rare in a Springer Spaniel but unfortnately extremely common in Westies. After two failed diagnosis by vets, we requested an immediate referal to The University of Edinburgh Veterinary Hospital. She had an appointment last Thursday and was immediately admitted into intensive care. After 4 days in a oxygen tank and various tests, they diagnosed Canine Pulmonary Fibrosis and said there was nothing they could do and that euthanasia was the best option. We refused to do this and brought her home to see the remainder of her days happy at home. They didn't believe we would survive the 2 hour journey home, but 30 hours on our beloved Meg is back on her perch in my Father's van. We are keeping her calm and comfortable and ensuring good ventilation at night when she struggles most. They gave us viagra and some steroids to keep her comfortable.
I was wondering whether you could provide any additional advice in terms of treatment? I understand there are also bronchial dialators such as theophylline or terbutaline? Any advice or support would be very much appreciated.
Yours sincerely, Rachel.
As a follow up, we had a very sad piece of news from Rachel on 21 August 2013….
Thank you so much for your informative and heart felt email. Yes it was Professor Brendan Corcoran who we saw when Meg was      discharged but it was Resident Valentina Palermo who treated Meg initially. Meg spent a few days managing and enjoying time in my father's van which she had done for 14 years. I managed to get some bronchial dilator tablets from our local vet but sadly they did not make a difference. Meg was too poorly to stablise.
Sadly, on Saturday morning we had to make the heart breaking decision to say goodbye to Meg. She had declined overnight on      Friday and didn't get out of her bed on Saturday morning. The day that Meg didn't get out of bed was the day we had to say goodbye. It was very peaceful and the vet was wonderful.
We are slowly coming to terms with life without Meg, but it isn't easy as I'm sure you understand. What a terrible illness this is      for dogs and I hope one day there be a cure. By all means, use my comments on your visitor's page. I think it is a wonderful support that you provide through the dark times of this awful condition.
Once again, thank you from all my family for your words of support and advice. I will keep checking your website for any updates.
Best wishes, Rachel Taylor.
Update – we received an update message from Rachel on 13 April 2014….You may remember I contacted you last year about our Springer Spaniel Meg who sadly passed away from Pulmonary Fibrosis.
In honour of her memory and other dogs who have suffered at the hands of this cruel disease, I have set myself a challenge to complete the Yorkshire Dales Three Peak Challenge on 21 June 2014 to raise money for research into the condition for the University of Edinburgh Veterinary Hospital.
I have set up a Just Giving Page and would really appreciate it if you could advertise it on Austin and Harry's website.  The link is here www.justgiving.com/Rachel-Taylor25
18 Aug 2013 From: Ann Robertson – Subject: Molly

We have had Molly for 6 years now, she is a rescue Westie and is our fifth. She started coughing earlier this year. I took her to the vet and he gave tablets for lung worm and antibiotics for an infection, these were repeated over weeks and no improvement. The vet seemed at a loss and his next port of call was to x-ray for foreign bodies. I started losing confidence with the vet and went to seek a second opinion. This vet took his time with Molly and eventually came up with the Westie Lung diagnosis, he prescribed steroids. We have rescued Westies for years and this was completely new to us. I looked on the internet and came up with your site. The reading was so sad.
The steroids slowed Molly down drastically and she seemed to be in distress. We weaned her off the steroids and put her on Serrapeptase. She has loads of energy, enjoys her food and runs all day with our other dog Jake. She still coughs but not as much and doesn't seem to be distressed. I know there isn't a cure but I am so glad I found your site and sorry for all of you that have had to experience such sadness.
I will let you know how we get on. Regards Ann
We then had a follow up note from Ann on 19 August 2013 ….
Hello Neil & Jane, I have spoken to my new vet about Molly and she is more than happy with what we're doing. She says steroids can be debilitating and it's all about how happy and comfortable the patients is.
Some years back when we first started with rescue Westies our first one Beau Jangles had a tumour we saw it on the x-ray. The then vet gave her six weeks to three months. I do a lot of reading and one day went to my library and there in front of me was a book called heal your dog the natural way, I borrowed the book took it home and it recommended Chlorella. I bought it, gave it to Beau, and we had her for another six years, the tumour went. Don't know what it's all about but am willing to try anything.
I do prefer natural remedies rather than intrusive harsh remedies. I found another supplement for Molly but the herbalist said not to give it in hot weather. It's Turmeric, Bromelain and Ginger. Apparently it helps with emphysema.
regards Ann
10 September 2013  we've had a really useful update from Ann regarding the dosage of enzymes:
We have Molly on the Serrapeptase as one of your ladies recommended and recently we have put her on an antihistamine the same as for hay fever. She is extremely lively, loads better than she was and definitely better than when she was on steroids. Her coughing is a lot less.
We have just been on holiday and having more time to observe her you notice she coughs when she's excited, when it's feed time and after a drink. My husband started to think then is it an allergy or psychosamatic or asthma. So we are observing and rethinking at the moment. But she is so much better. At one stage before the Serrapeptase she was coughing nearly all the time.
My last lot I bought from a company called Dreamtastic Limited, the price is exceptional. Initially with another supplier I paid £6.99 for 30 tablets. With Dreamtastic I have paid £11.99 for 90 tablets. It's www.dreamtastic.co.uk
The tablets I am buying are Natures Aid and are 80,000iu High Potency and am giving one in the morning and one in the evening.
The antihistamine are for humans and I am giving one a day.
I use dried food and add a little moist to put the tablets in.
10 October 2013 – update from Ann….
I hope you're both well. I see you are still working really hard on behalf of all of the westies   out there and their owners and it is very much appreciated. I feel if I hadn't found you we might not have Molly now.
This is a picture of Molly, she's the one on the top and Fred who we rescued at the age of 12 months and died a couple of years ago at the age of 16 years.
Molly at the moment is full of beans. She enjoys her food, her walks, she is up and down stairs the cough is getting less and I feel the combination of the serrapeptase and antihistamine is working really well.
Occasionally when she breathes it sounds like gurgling water and then it goes, even that seems to be gettng less!
So far so good.
19 August 2013 From: Marie – Subject: Breathing
Hi, I have a six year old Westie and ever since he was young, I could hear cracking sounds when he breathes slightly heavily or pants but I always thought that was the sound of his saliva. Is there any way to differenciate the sounds? I could mimic the cracking sound that he makes with my mouth, and I'm not sure if its the same thing. When he goes to the vet we are always told he is healthy but I am worried. Thanks for all your help! -Marie
After looking into this further, Marie replied on 20 August 2013….
.
Thank you for your time! I have carefully listened to his "crackling" sounds and I am almost certain now that it is coming from air trapped in his mouth. It is not all the time that he does it. I will ask the vet again just in case! Your website is very helpful and I'm very grateful as it informed me about WLD. Thank you for putting your time into educating other people and helping our beloved Westies out!
Sincerely, Marie and Tango
18 Oct 2013 From: Ciara Healy – Subject: Thank you for sharing your experience
Dear Neil and Jane, I came across your website the other day. It will be exactly three months on Saturday the 19th since my little Hamish had to be put to sleep. The most painful and devastating decision I have ever made. Your website has been transformative however because I never knew anything about Westie Lung Disease, and neither, it seems did my vets. Hamish was ten years and nine months when he died. He was really the love of my life and we did everything together. Nine months before he died he became very ill and lethargic, almost drifting into a coma. The vets kept him in over night and put him on a drip. When I came to collect him they said he had diabetes.
Despite immediately giving him insulin shots daily, in under three weeks of that diagnoses he went completely blind. But before any of these signs occurred there was always an underlying cough and crackle in the lungs, a reluctance to walk long distances, a need to lie on his side and all the other symptoms you describe so clearly and painfully in your wonderful website. His cough became so much worse with his diabetes, because his immune system was so weak. My vets just continuously gave me packets and packets of Baytril for him as wel as diuretic tablets, which unfortunately just flushed all the insulin out of his system, making his diabetes worse. Apart from costing a fortune, he was on these pointless drugs continuously and they were doing nothing for him. It was so frustrating. The vets kept telling me that it was the diabetes that was causing his cough and his lungs to fill. I live in Wales and I think the damp also made it so much worse. The problem was that Hamish was so often in good spirits and so often when I would think that I had to make a decision about putting him to sleep, he would perk up and have a few good days, that I would decide to wait a little longer. Then in July of this year we went to the beach and he went for a little paddle, which was so brave because he > couldn't see, but that night when we got back I noticed a lump under his arm and his leg was all swollen, perhaps from a sting. The vets said they would have to sedate him to x-ray him and they gave me some steroids to keep him comfortable for a few days and they said they would take him in the following week. Like your little Austin and Harry those magical last 2 days were surreal and like his final swan song. The weather was beautiful and I sat with him in the garden and he sniffed and pottered about coming back every little while to kiss me and lick my tears away. I knew in my heart that going back to the vet to be sedated and poked and prodded would be the worst thing to do to him. He absolutely hated it there. Because I live so close to the coast, I decided to bring him home to Ireland where I am from to be buried with my other little dogs who were his dear friends and to be put to sleep by our vet in Cork and in my parents home, the place he loved visiting. He was such a little fighter, and when the vet came to our house to put him to sleep in my arms he struggled to leave, which was so very heart breaking.
But reading your website has helped me so much. I now know that those last three days with him were magical because he was on steroids for his leg – and that it was steroids all along that alleviated his chest – not antibiotics! What you said about constantly turning around whilst walking also rang true, and instinctively I would prop a pillow under his chin every night so as to allow him to breathe more comfortably. Also reading yours and the other sad stories has made me realise how lucky I was to be with him when he died and what further suffering I was protecting him from. They are very brave little dogs, Westies, and so very loyal. Hamish had such a tough start in life, he was a rescue dog from Ireland and his previous owners had broken his back legs. But he lived with me for nearly 9 years in the lap of luxury. He loved going on the tube when we went to London. He loved digging on the beach to find cool spots to plop his belly into. He loved barking at seagulls, visiting his Nana, sniffing in the park, looking out the window, watching animals on telly and snoozing in front of the fire.
Thank you so much for sharing your story. Your boys were very, very handsome and I can see they were also so dearly loved.
My best wishes, Ciara
Some additional information Ciara provided us on 19 October:
One thing also that I found that helped Hamish a lot in his last few months was feeding him a dry organic Vegan Dog Food called Yarrah. The food had no sugars or preservative things in it – which obviously was really important for his diabetes, but also it stopped the cough getting really chesty with phlegm – I think sugars, especially with diabetes, makes bacterial build up rapidly and infections so much worse. I am not qualified in this area, but I did notice a difference.
28 October 2013 From: Robbie Millar – Subject: My Hamish
Hi my name is Robbie, we have a Westie named Hamish who is 13′ with what seems like Westie Lung Disease, He has trouble with coughing, which is getting worse; vets have him on Codiene and Antibiotics at the moment, which isn't working. His cough now has a whistle and wheeze about it – he's very tired, wants to be near me all the time, but is still eating well and drinking. Thank you for letting us read your stories. Hamish has a sister Skye 9 years old, who is well at the moment
On 12 December 2013  we had a sad piece of news from Robyn ….
Thanks so much for getting back to me re Hamish.  Sadly my special boy went to Heaven 2 weeks ago, he was coughing with a wheeze for ages but then seemed to be too weak, so was breathing fast to get enough air in. The last morning his back legs went on him so we took him for a last walk along the River in his pram. I think at the vets he was thankful for us for taking him. He went very peacefully with us holding him & even managed a last lick on the nose for my husband. Thank you for reading this, makes me feel a wee bit better to share. Robbie x
02 November  2013 From: Audrey – Subject: My beautiful westie Barney
Our Barney became ill with Westie Lung disease and this morning he could not get his breath and was gasping for air. He had been sat on his back legs mostly for the past 24 hours because if he was on his tummy or his side it seemed to be very uncomfortable or hurt him. I took him to the vets and the crackling in his lungs was so great she could not hear his heartbeat properly. The medication they had given him was not working and when I asked if he was in pain she said he was very uncomfortable. She could not give me assurance that anything else they tried would work because he was so bad so I couldn't let him struggle to breathe any longer. I held him in my arms while he was put to sleep and he went peacefully. I am heartbroken and I am really on my own now as my hubby is seriously ill in a nursing home. I thought things couldn't get any worse but they have done. Barney was 12 years and 1 month old. I am now going over and over about whether I did the right thing or not. I hope it will not be long before I join him – I feel I have nothing to live for now. I have gone through losing five other westies but none with westie lung disease – I did not know it existed.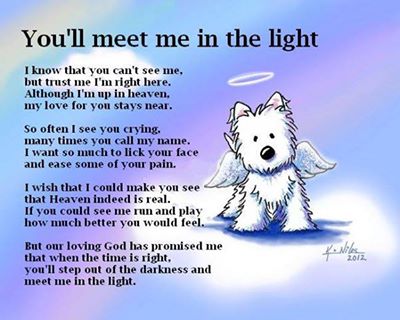 07 Nov 2013 From: Sonia Stanyer – Subject: My Poorly Little Man Benson
My boy Benson was diagnosed with WLD 18 months ago, after I had spent almost 12 months taking
him to our local vet with a wheeze! Eventually I was referred to Northwest Surgeons in Sutton Weaver, Cheshire.
After numerous X-rays, CT scans and an MRI the suspected diagnosis was confirmed in January 2012. I asked the cardiologist the best course of action. He stated that it was in its' early stages and the outcome was inevitable. Steroids would only delay that and had other implications. I asked him what he would do if it was his dog and he replied, leave him be for now. This past few months he has started to become more out of breath and slow on his walks, but he is still eager to go out twice a day and play each night with his dad. He is very happy, eating and drinking well and sleeps like a log. He is not in pain or discomfort or suffering and is as bright as a button. He comes to work with me each day and loves my customers.
I wonder now what to do, do I take him back to the vet, try steroids or leave him be! I am so torn with what to do. I do hope he goes in his sleep just like Harry and Austin. I know his time will come soon.
On 10 December 2013, we received some encouraging news from Sonia about her Benson…. 
I would like to update you on Bensons' progress.
It is a month now since Benson has been on the enzyme Serrapeptase and it has had a remarkable effect.  He has far more energy, is not as wheezy and his general health seems to have taken a huge turn for the better, he takes one tablet in his food twice a day. My husband and I cannot believe the difference in him,  I do realise that it is only making him more comfortable and the inevitable will happen, there is no cure, but any help we can give must be worth a try!
I revisited Simon Swift at Sutton Weaver 2 weeks ago, nothing ground breaking except that he is getting slowly worse. I told him about the enzyme and I said I would forward details to him of your website.  One interesting thing he did tell me is that there is a vet from Belgium doing some research into the disease and he asked if I would consider being part of the research. It will probably mean a postmortem when the inevitable happens but I feel strongly that more research is needed and stated that I would be only happy to help. I will of course keep you all informed.
For now we will continue to enjoy our time with my boy and wish each and every one of us suffering some hope soon.
We received a further great piece of news from Sonia on 1 June 2014….
Hi all just thought I would update you all on the progress of my little man Benson.  It has been almost 2 years since Benson was confirmed as having Westie Lung Disease, although his symptoms started almost 4 years ago! Since putting him on Serrapeptase enzyme, as recommended by one of the visitors to your site, he has shown a remarkable improvement and is not as weasy or breathless.  He stills goes out for two walks a day and is as playful as a puppy.  We have recently moved house to the country and I believe this has had a made a difference too as the overall air quality is much better.  Last November I did not think he would make Christmas, but he did. The next milestone was his 10th birthday which was April, he managed that with ease. I enjoy the time we have and hope it continues for some time yet.  My vet at Sutton Weaver is fantastic and very supportive of the treatment and as yet he is not on steroids.  Long may this continue.  Keep up the good work and lots of all of you battling this disease with your precious companions.
.On 20 June 2015 we received some terribly sad news from Sonia:
It is with a heavy heart that I write these words. Yesterday our little man passed away at the age of 11 years and 2 months old, not I hasten to add from WLD which he had diagnosed at 7 years old but from a large tumour in his belly which was only diagnosed that same day!
For only one week Benson had not been himself, he was lethargic, did not want to drink much or go for a walk. His appetite remained the same but he seemed to be struggling with his back legs and his back became very hunched. We assumed he was struggling to breathe with the warm weather and his WLD had deteriorated. After a visit to the vet on Monday he prescribed some steroids and corvental, but by Thuday his motion was black and his was struggling to lie down n a comfortable position. His urine had also turned bright yellow! I rang the vet and suggested that the problem was not WLD but more about his stomach. On his instruction I rushed him back that very minute.
As soon as he examined him I saw his face, he had found a mass in his stomach, he said it was essential to have him in the next morning for a scan under an anaesthetic, in spite of his respiratory condition. I knew then to be honest but did not want to believe the truth that was staring me in the face!
The following morning I took him in, held him in my arms and said goodbye as he was given a premed.  At 12.05pm the vet rang me to say that the tumour was 10cm and so large they could not fit it on the scan. We had 3 options, operate which he was not hopeful about due to its size, bring him home or let him pass! My husband and I had 4 minutes to talk and make a decision, which is no time at all but to be honest the decision was made for us. He had only shown us a week before that he had this tumour, he had walked, played, eaten and slept like the perfect dog.
He was a true gentleman and he deserved to go with some dignity! No other decision was right.
As we sit her now we are totally bereft, our faithful, loyal and devoted companion is missing! The loss is immense, every single minute of the day. Benson was a huge part of our lives and was a massive people magnet! He came to work with us every day and was on our team, a huge presence in our family. I still cannot believe that he survived with WLD for over 4 years after diagnosis, the only medication was Serrapeptase!
We must focus on our happy memories of time spent with him, which in time will heal our broken hearts. We were so privileged to have such a fantastic friend to share part of our lives and how we will fill this large void will be more difficult to master. RIP our little man, you will be greatly missed by all who knew you
.
12 Dec 2013 From: Kim Keanie – Subject: Westie Lung Disease 
Hi, just want to say thank you for all the information you have put here about this terrible disease. My westie, Skye passed away last night from this. At the start of the year she caught kennel cough from a dog in the park, we took her to the vets and she was given tablets. It cleared up but a few weeks later she started coughing again the vet gave her some other tablets. This happened twice then the vet said it could be westie lung disease. I came home and went on the internet and found your website. The past two weeks have been terrible watching her trying hard to breathe properly. We had decided to put her to sleep on Saturday, but last night she had a heart attack and passed away. I'm absolutely devastated, but know she's at peace now. Thank you for giving me some understanding of this disease. I'm still going to have another westie next year. Nothing beats a westie. X